The poets were male, but both the speaker and the subject were female. It reflected a world inhabited by women but more importantly, though, it gave voice to love and desire within the world of women.
By the late eighteenth century, as Awadh or what is modern-day Lucknow, emerged as the capital of a thriving Indo-Persian culture, there emerged a genre of Urdu poetry, unique in style and perhaps audacious in content. The Rekhti was an interesting departure from all other forms of Urdu poetry that had taken birth in the subcontinent. The poets were male, but both the speaker and the subject were female. It reflected a world inhabited by women but more importantly, though, it gave voice to love and desire within the world of women.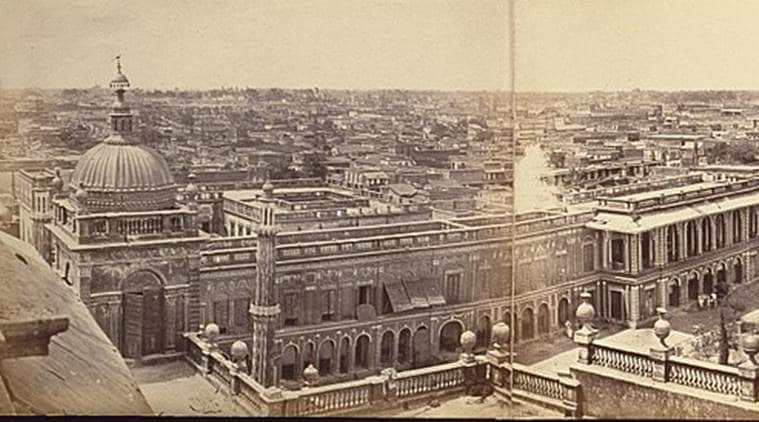 By the late eighteenth century, Lucknow had emerged as the centre of a thriving Indo-Persian culture. (Wikimedia Commons)
Frequently performed by men in local poetry readings, mushairas, these erotic poems borrow historicity from the Sanskrit tradition of the Kamasutra and its many abberations as well as the Perso-Arabic romances and erotic treatises. The poems were written using vocabulary common in women's language and while a number of themes were employed, a large majority of them focused on love and sexual longing of women and for women. Usage of words that denoted women's endearment like "dogana" and "zanakhi", sexually explicit imageries demarcate this genre from its heterosexual counterpart, the Urdu ghazal Rekhta, while sharing plot lines that revolved around longing, separation and pain in love. Also common in these poems is the understanding of same sex love being considered immoral in medieval times.
While the focus of Rekhti was on women's love relationships, the agency still clearly remained in the hands of the man for whom the genre of poetry was more a means of entertainment. For historians, the poems have gone on to serve as important sources that speak about male gaze on female sexuality, apart from of course carrying insights on how urban landscapes shaped an evolving artistic and linguistic culture in this period. Interestingly, by the late nineteenth century, Rekhticame to be perceived as a decadent form of Urdu literature that had to be suppressed and erased. Scholars, however, consider these poems to be crucial in their depiction of women's lives within both the elite households and also in courtesan quarters, of the Begums, the shareefzadis and the khangins.
It is interesting to note that a major influence behind the suppression of this genre of poetry was the colonial backdrop, that had taken off by the late nineteenth century. Evolving somewhere between a local and the Victorian sense of morality, social reformers of this period responded by waging campaigns to purify society of sexualities other than the heteronormative kinds. "Beginning in the mid-nineteenth century, Rekhti poetry, along with Urdu poetry in general, and much literature in other Indian languages, was 'reformed' and 'purified' by literary critics, editors, and poets, with the result that the themes and content of Rekhti grew more didactic and less erotic," writes activist and author Ruth Vanita in her work, "Married among their companions: Female homoerotic relations in nineteenth-century Urdu Rekhti poetry in India."
Vanita goes on to suggest that another development that led to the suppression of Rekhti was a revivalist Islamic movement in Lucknow led by people like Maulana Thanawi who wanted to Islamicise Urdu in the same way that Hindi was Sanskritised in a way to maintain its adherence to Hindu cultural mores. "In this new climate, Rekhti, identified with a 'female' voice, female homoeroticism, and an 'effeminate' hybridity, was seen as debased and shameful, a visible reminder of the hybrid past of Urdu itself, a past the Urdu literati were now eager to disclaim as they attempted to purify and Persianise the language," Vanita writes.
As we celebrate love in all its forms on Valentines day, here is a look at some translated excerpts of the Rekhti poems that celebrate female homosexual love.
Maine tere karan jo taja jog zanakhi
Tane mujhe ab dete hain sab log zanakhi
Tu aur bhi ek baar gale mere lipat ja
Jo phir kahun to dijiyon sau bhog zanakhi
Rahti hain tu in rozon mein kuch maili kuchaili
Sach kah ki yah hain kis ka tujhe sog zanakhi
Logon ne bahut chaha ki main tu na mile phir
Hona tha yah mera tera sanjog zanakhi
I have give up all other associations for you, zanakhi
Now everyone taunts me because of you, zanakhi
Come and cling to my neck just once more, zanakhi
If I ask again after that, give me a hundred abuses zanakhi
During these feasts, you appear dirty and untidy
Tell me truly, for whom you are grieving, zanakhi?
People are anxious that you and I not meet again
But you and I were destined to unite, zanakhi
Ankhen bari zanakhi meri jaan le gai
Khabt o junun to dekhiye ausan le gai

Har an ji pe an bani us ki un se
Har an us ki dil mera har an le gai

Hosh o hawas o taqat o aram o khwab o nur
Yah uski ja par mera saman le gai

Ana tha us ke sej mein to woh pari mujhe
Chohalpane me se a'e dil nadan le gai

Hasil zindagi mein hua wasl khak mein
Ek khalaq tere milne ka arman le gai

Rangin si na sirf dikhti thi sham-e hijr
Danton ki ab-o tab toh bas jan le gai
"Oh, your big eyes, zanakhi, have swept my life away.
Look at this madness, this derangement, carrying self-possession away
Every instant, her presence, her absence, endangers my life
Each of her charming ways carries my heart and honour away
Sense and senses, strength and rest, dreams and light,
Her being has carried everything of mine away
When it was time to come to her bed, that fairy,
Merrily, took me, oh innocent heart, away
In this existence, I found union only in the dust-
A universe took my hope of union with you away
Not only did it show me the evening of 'colourful' separation-
Her teeth's brilliant lustre carried my life away
Na khwab dekhne ki hun na talib aur bat ki
Dugana jan main bhukhi faqat hun teri chahat ki
Baham chitvan ki harkat se mabada tar le koi
Nahin main dekh sakti tujhko mare is qabahat ki
Tujhe mujh bin na aram na chain mujhe tujh bin
Baham apni jo ulfat ho yeh surat hain ulfat ki
Na ja sakti hun us tak main na aa sakti mujh tak woh
Aur us par dekhiyo niyat meri kya kya kuch hain khalqat ki
Hile yahaan hont mere pa liya tum ne wahan Rangin
Aji Sahib tumhari main hun qa'il is farsat ki
I don't desire to see you, nor do I want anything else,
Du-gana my life, I am only hungry for your love
Someone may figure out the meeting of our eyes
For fear of such villainy, I can't even look at you
You have no rest without me and I no peace without you
We're able to love, that would indeed be the face of love
I can't go to her nor can she come to me-
Lets see what else fate and the world have in store
My lips moved here, and you understood it there, Rangin
Aji Sahib, I'm an admirer of your intuitiveness
Aankhen bari zanakhi meri jaan le gai
Khabt o jun toh dekhiye ausan le gai
Oh your big eyes zanakhi swept my life away
Look at this madness, this derangement, carrying my possessions away
Zanakhi kya hi maze se kal guzari rat
Bala'en' hathon ne mere jo li tumhari rat
Bala'en' hathon ki leti rahi main sari rat
Zanakhi how delightfully we spent last night
My hands devoted themselves to you last night
I felt so devoted to my hands all night
This article has been written in consultation with Tannishthaa Bhattacharjee. She is an Mphil research scholar of History at the University of Delhi.