Cristiano Ronaldo bagged a hat-trick as Real Madrid thrashed Real Sociedad 5-2 in La Liga on Saturday to warm up for their Champions League clash with Paris St Germain in style.
Real's big victory over Sociedad took them third above Valencia but they trail Barcelona by 16 points as they turn their attention to the defence of their Champions League title against PSG at the Bernabeu on Wednesday.
Zinedine Zidane rested Casemiro and Gareth Bale with one eye on that, but the Welsh winger's replacement Lucas Vazquez took full advantage when he headed home Ronaldo's cross after 49 seconds.
Karim Benzema struck the post with a low effort as he failed to break his scoring drought, the French striker is now without a league goal since November, as Real pressed to add to their advantage.
They did just that after 27 minutes when a brilliant turn by Asensio unlocked Sociedad's defence and Marcelo crossed for Ronaldo to slam home from close range.
Toni Kroos curled home the third from outside the area and Ronaldo headed home Luka Modric's corner in a four-minute spell before the interval.
The Portuguese forward completed his treble after Geronimo Rulli beat away substitute Bale's long-range effort. Jon Bautista and Asier Illaramendi netted consolation goals for Real Sociedad.
"Today from the first minute the team came out to play football, to keep the ball, to press the opponent and steal it high up, and there was a big difference," Real captain Sergio Ramos said.
"Then in front of goal we were more accurate (than in recent games). I'd be lying to you if I said that we weren't thinking about PSG.
"Against them we play for our season, (here) we could have continued to press but we couldn't keep up that rhythm for 90 minutes. We knew how to rest ourselves.
"The objective was to gain confidence and that is what we did today."
A day after last season's 'Golden Ball' winner Dipanda Dicka said he was yet to get the prize money, reigning champions Aizawl FC claimed the All India Football Federation owed them Rs 57 lakh towards outstanding dues since the 2015-16 season.
Moments after the AIFF disciplinary committee held Aizawl FC guilty of crowd violence in their February 25 match against Mohun Bagan and imposed a fine or Rs 3 lakh, club president Robert Royte, who attended the meeting, attacked the parent body.
"The AIFF owes us Rs 57 lakh that includes runners-up prize money of the 2015-16 Federation Cup, some Man of the Matches awards and and travelling allowances," Royte told a news conference.
"As an owner and president of the club, I demand that the AIFF should also clear the pending dues. Then we will see how to pay the fine.
"Regarding the quantum and amount of the fine, I've to discuss with my colleagues whether we will go for an appeal or not. We have to follow the rules."
An AIFF official said all dues will be cleared by the end of the ongoing fiscal.
Royte, however, said they would give an undertaking to the AIFF that the club will be responsible for the safety, security and peace at the stadium so that there is no closed-door match in Aizawl.
"That will be done. I'm sure that improvement will be there from the government and club's side. It's a big lesson for the fans of Aizawl.
"Let us hope the AIFF will agree for the new arrangement. Safety will be ensured for the visiting teams and fans and even for the home fans," he said.
Asked if they would pay the fine, he said: "Giving of penalty is another issue. We will think whether to appeal or not. I will have to discuss with my colleagues."
Bengaluru FC leave for Maldives despite government advisory
Bengaluru FC left for Maldives on Sunday to play their AFC Cup first-leg play-off match against T C Sports Club on February 13 despite a government advisory not to travel to the island nation because of the prevailing political turmoil there.
The match will be held at Rasmee Dhandu Stadium in the capital city of Male.
Last week, the Ministry of External Affairs had asked Indian nationals to defer travel to Maldives because of the recent political developments there.
According to reports, the MEA had also written another letter to the Bengaluru FC head of operations Srinivas Murthy, advising to defer the trip to Male.
"We have asked the AFC whether this match can be deferred but they (AFC) said in that case Bengaluru FC will have to forfiet the match and lose points. So, Bengaluru FC will have to play this match on Tuesday in Male. They (Bengaluru) are going to Male for the match," an AIFF official told PTI on the condition of anonymity.
A Bengaluru FC official also said that the club decided to travel to Maldives instead of forfeiting the match.
"The Maldives National Defence Force has promised full security for the match and they have informed this to the AFC. So, we are going to Male for the match," the official said just before the team's departure.
Chennai City-Shillong play out goalless draw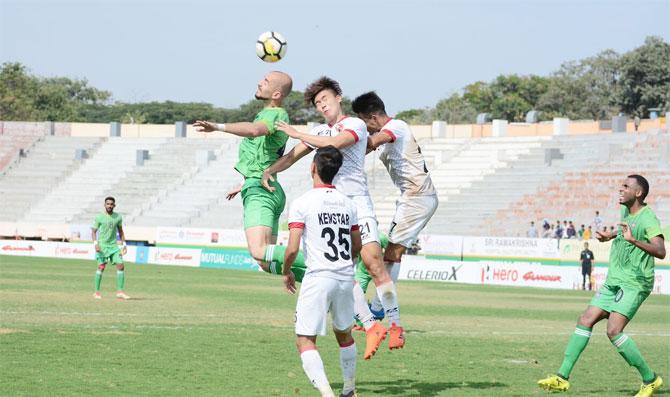 Chennai City and Shillong Lajong played out a hard-fought goalless draw in their I-League match in Coimbatore on Sunday.
Both sides created goal-scoring chances but failed to give the finishing touches to end the match in a stalemate at the Jawaharlal Nehru Stadium.
With one point from the match, Shillong Lajong remained at fifth spot in the league table with 18 points from 16 matches.
Chennai City, on the other hand, now occupy the ninth place with 13 points from 15 matches.
I-League: Arrows stun Churchill Bros 2-1
Indian Arrows, who are often accused of conceding late goals, launched an extraordinary fight-back to win 2-1 against Churchill Brothers in their Hero I-League encounter at the Tilak Maidan here.
The Arrows were trailing 1-0 till the 90th minute after an 11th-minute strike from Dawda Ceesay and were staring at another defeat until substitute Abhijit Sarkar scored two injury time goals to turn the game upside down.
Following the stupendous win over high-flying Churchill Brothers, takes the young Turks to the eighth spot with 14 points from 15 matches, whereas the Red Machines are positioned one step up having amassed 16 points from 13.
Bayern extend dominance over Schalke, Batshuayi strikes again
Runaway Bundesliga leaders Bayern Munich continued their relentless progress towards a sixth successive title with a 2-1 win over Schalke 04, extending their unbeaten run against the Gelsenkirchen side to 15 meetings.
Bayern's win was their 14th in 15 league games since Jupp Heynckes returned for a fourth stint as coach following the dismissal of Carlo Ancelotti, although the 72-year-old was absent on Saturday with a heavy bout of flu.
Michy Batshuayi scored his third goal in two games since joining Borussia Dortmund as they celebrated the return of Marco Reus from injury with a 2-0 win over troubled SV Hamburg, whose proud ever-present record in the Bundesliga is in serious danger.
Dortmund moved up to third, but Bayern, who have 56 points from 23 games, stayed 18 clear of second-place RB Leipzig, who have 38 — one more than Dortmund.
Bayern have won 11 and drawn four of their past 15 matches against Schalke, whose last win over the Bavarians was in the 2010/11 season.
The hosts got off to a flying start when Robert Lewandowski scored for the 11th successive home game, in the sixth minute.
The Pole ended a flowing end-to-end move by tapping in from a rebound after Schalke goalkeeper Ralf Faehrmann blocked Thomas Mueller's shot.
Franco Di Santo stunned the Allianz Arena by equalising in the 29th minute, burying his shot after Leon Goretzka miskicked from Breel Embolo's cross.
But Bayern regained the lead seven minutes later with a crafty effort from Mueller who got to the byline, saw that Faehrmann was expecting him to pull the ball back and threaded his shot between the goalkeeper and the near post.
Serie A tit-for-tat continues as Napoli go back on top
Napoli continued their tit-for-tat battle with Juventus at the top of Serie A when they hit back to beat Lazio 4-1 and return to the top of the table with their eighth league win in a row.
AC Milan's revival under Gennaro Gattuso showed no signs of stopping as they won 4-0 at SPAL, extending their unbeaten run to eight matches in all competitions, while Crotone and Atalanta splashed their way to a 1-1 draw.
Napoli, who have 63 points from 24 games, moved one ahead of champions Juventus who briefly went top after beating Fiorentina 2-0 on Friday and have also won their last eight league games.
The pattern was the same as the previous two weekends when Juventus played first, won and went top only to be pulled back by their rivals.
Juventus will also play first for the next four rounds of matches, a situation which has drawn complaints from Napoli coach Maurizio Sarri.
Third-placed Lazio dropped 16 points behind the leading pair after failing to capitalise on a flying start when defender Stefan de Vrij got between the Napoli defence to nudge Ciro Immobile's cross past Pepe Reina in the third minute.
Cordeiro elected as US Soccer president
Carlos Cordeiro will succeed Sunil Gulati as president of US Soccer after being elected following three rounds of voting on Saturday at the organization's annual meeting in Orlando, Florida.
Cordeiro, a business executive with more than 30 years of experience in international finance, has been Gulati's vice president since 2016.
Gulati, who had been involved in US Soccer for about three decades, decided last December against running for re-election. He has faced heavy criticism since the US men's national team failed to qualify for this year's World Cup.
Cordeiro won a majority vote in the first contested US Soccer presidential election since 1998, prevailing in a field that featured Paul Caligiuri, Kathy Carter, Steve Gans, Kyle Martino, Hope Solo, Michael Winograd and Eric Wynalda.
Cordeiro, born in 1956 to a Colombian mother and a Portuguese father, has served various roles with US Soccer since being appointed as the federation's first independent director in 2007.
He has been treasurer, chaired the budget committee, and been director of the US Soccer Foundation. In addition, he represents US Soccer on the CONCACAF Council and FIFA's Stakeholders Committee.