US shares opened higher on Friday, reversing some of the previous session's hefty falls as the volatile week on the markets continued.
The Dow Jones Industrial Average started trading up 227 points, or 0.95%, at 24,087.
The S&P 500 index opened 25 points, or 0.9%, higher at 2,606. However, both indexes are still on track for their worst weekly losses in six years.
In London, the FTSE 100 index was down 0.5% at 7,140.26.
Other European markets were showing similar losses, with Germany's Dax and France's Cac 40 indexes both down 0.6%.
On Thursday, the Dow Jones had fallen by more than 1,000 points for the second time this week, and Asian markets followed the downward trend, with Japan's Nikkei 225 shares index closing down 2.3%.
The big sell-offs around the world this week have been pinned partly on concerns over the prospect of higher interest rates.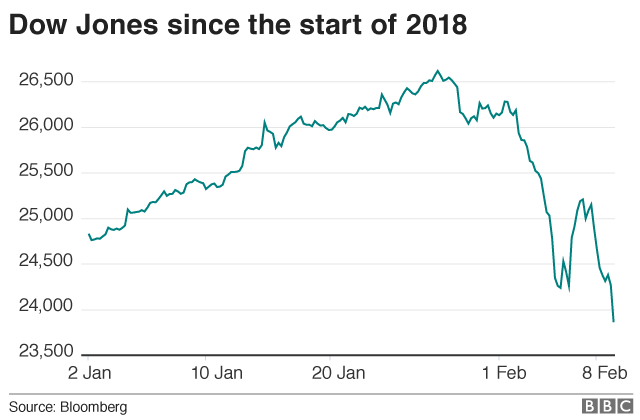 Bank of England deputy governor Ben Broadbent told the BBC that markets might have underestimated the prospect of a pick-up in inflation.
"If you look at what happened last year, particularly in the United States but also other equity markets, there was extremely strong growth – big rises in prices – as people gradually realised how strong the global economy was," he said.
"If markets are responding understandably to that growth, it's possible they weren't pricing in the risk that that same growth would produce some inflation and some rises in interest rates, and I think what you're seeing now is the effect of that realisation."